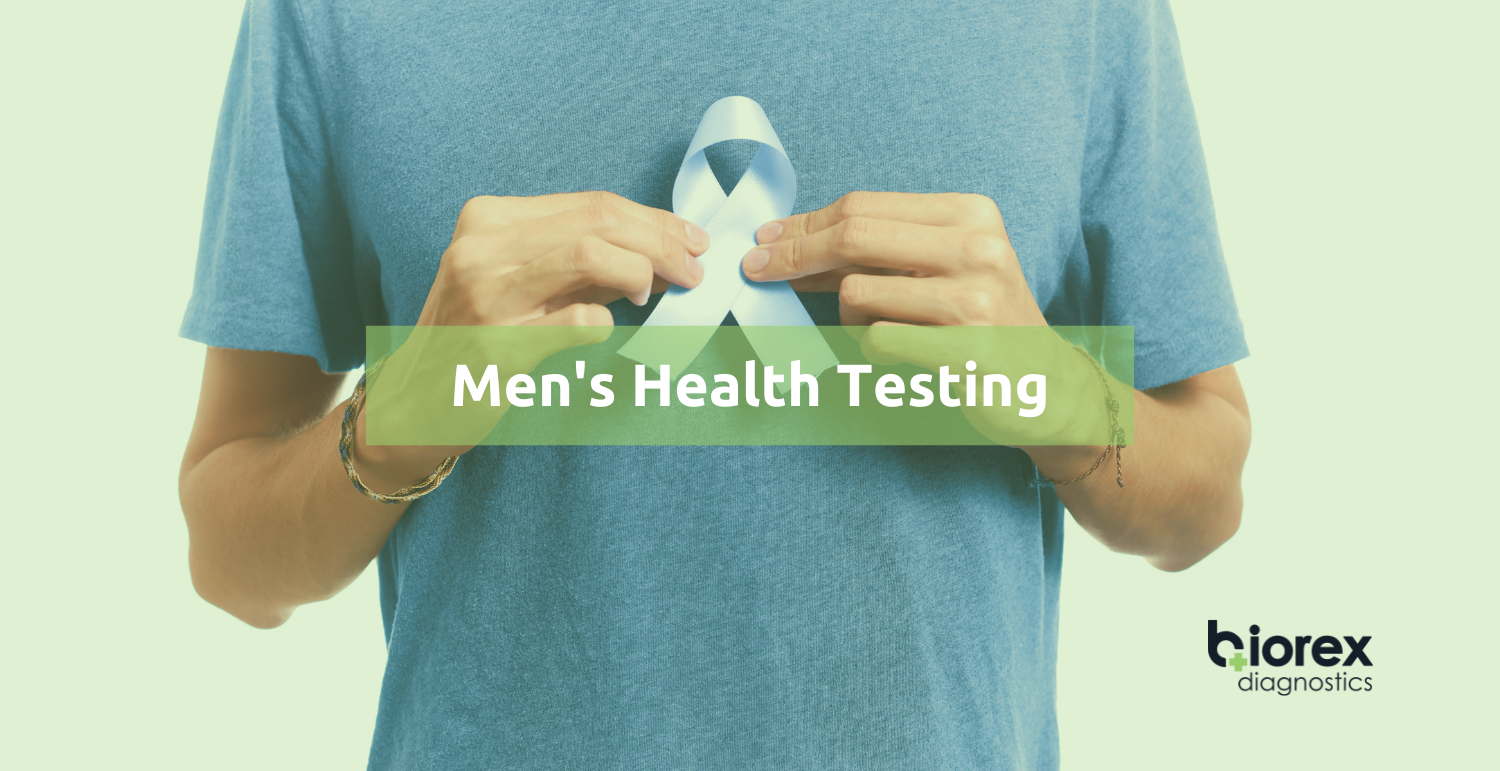 Men's Health Testing
Men's Health Testing
This June, Biorex Diagnostics are focusing on Men's Health Testing for Men's Health Week (12th – 18th June 2023). Regular health screening for men is vital to aid in the early detection of several diseases, including: diabetes, heart disease and prostate cancer 1.
Diabetes
Men are at an increased risk of developing diabetes from lower levels of weight gain and fat build up compared to women, meaning that men have a lower BMI than women when developing diabetes. Unlike women, men can experience unique effects from diabetes including erectile dysfunction (ED), recurrent gentile thrush and reduced muscle mass. Uncontrolled diabetes can be life-threatening. All men over the age of 45 who are overweight should get tested for diabetes 2.
Heart Disease
Men develop heart disease roughly 10 years earlier than women. Erectile dysfunction is an early indicator of heart disease in men. Men who have ED but no other risk factor for cardiovascular disease are at an 80% increased risk of developing cardiovascular issues with 10 years. Reduced testosterone levels have also been identified a cardiovascular and metabolic risk factor 3.
Prostate Cancer
Prostate cancer is the second most occurring cancer in men and the 4th most common cancer overall. In 2020, there were 1.4 million new cases of prostate cancer 4. The risk of prostate cancer increases with age, with most cases diagnosed in men over the age of 50. Prostate cancer is higher in those who are black or Asian. Prostate cancer also has a genetic link. Those with a father or brother who developed prostate cancer before the age of 60 or a close female relative who developed breast cancer, have a higher risk of developing prostate cancer. Moreover, obesity and diet also have links with an increased risk of prostate cancer 5.
Biorex Diagnostics Panel
Biorex Diagnostics offer several products to aid in diabetes, cardiovascular disease and prostate cancer diagnosis.
Quote our promotional code 'MEN23' when ordering from the Biorex Men's Testing Panel throughout June 2023.
Diabetes Panel
Cardiovascular Panel
Prostate Cancer
References
Rankine B. Men's Full Health Check | Do I Need a Health Screen?. https://www.prime-health.co.uk/blog/mens-full-health-check-do-i-need-a-health-screen/ (accessed 1 June 2023).
Felman A. What are the symptoms of diabetes in men?. https://www.medicalnewstoday.com/articles/311173 (accessed 1 June 2023).
John Hopkins Medical. Special Heart Risks for Men. https://www.hopkinsmedicine.org/health/wellness-and-prevention/special-heart-risks-for-men (accessed 1 June 2023).
World Cancer Research Fund International. Prostate Cancer Statistics. https://www.wcrf.org/cancer-trends/prostate-cancer-statistics/ (accessed 1 June 2023).
Prostate Cancer. https://www.nhs.uk/conditions/prostate-cancer (accessed 1 June 2023).