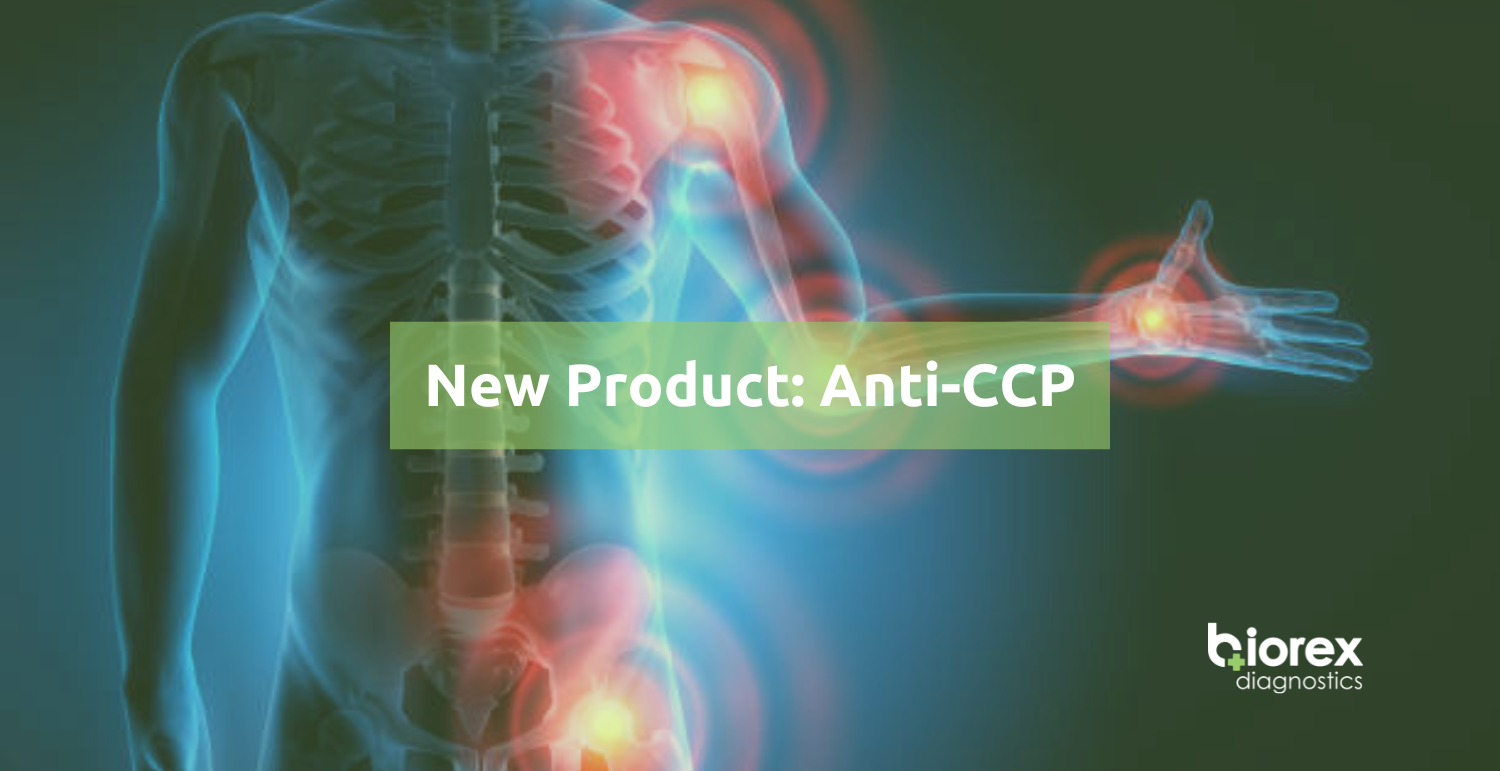 NEW PRODUCT: Anti-CCP
NEW PRODUCT: Anti-CC

P –

A Biomarker of Rheumatoid Arthritis
Several diagnostic tests are utilised in the diagnosis of RA, including rheumatoid factor (RF), anti-cyclin citrullinated peptide (anti-CCP), erythrocyte sedimentation rate (ESR) and C-reactive protein (CRP). Whilst ESR and CRP measurements are imperfect, both do continue to play a role in the diagnosis and management of RA 1.
Anti-CCP
Anti-CCP assays are widely available clinically for the detection of autoantibodies against citrullinated proteins (ACPA) and offers an excellent diagnostic and prognostic value 1.
Several studies support the clinical use of anti-CCP as a biomarker for the early diagnosis of RA and prognostic prediction of joint destruction. RA joints produce anti-citrullinated protein antibodies and citrullinated proteins, mainly fibrins, are localised in RA synovial tissue. These findings strongly suggest a possibility that local citrullination of intraarticular proteins could be the initial event leading to the production of autoantibodies in RA. Anti-CCP offers high sensitivity and high specificity in RA. Moreover, high titre anti-CCP is associated with an improved clinical response to certain biologics (powerful drugs use to slow or halt inflammation that can damage joints and organs in arthritis and other inflammatory diseases), such as rituximab and abatacept, and so may be a powerful aid to clinicians in the personalisation of treatment plans for the best chance of patient response 2.
Rheumatoid Arthritis
Rheumatoid arthritis (RA) is a chronic systemic inflammatory autoimmune disease characterised by synovial inflammation and articular bone destruction. RA frequently affects females more than males and is predominantly seen in the elderly. RA targets the lining of the synovial joints and can cause progressive disability, socioeconomic burdens and premature death. Early diagnosis of RA is key for the most desirable outcomes, such as reduced joint destruction. Diagnosing RA within the first 12 weeks post-symptom onset is regarded as the optimal therapeutic window for cost-effectiveness 3.
Key Benefits of the Biorex Anti-CCP Assay
Ready-to-use for convenience and ease-of-use
Turbilatex method
Upopened shelf life of 12 months when stored at +2 to +8oC
Measuring range of 5 – 300U/ml
Correlation co-efficient of r=0.992 to commercially available methods
Controls and calibrator available
Find out more about the Biorex Anti-CCP assay.
References
Guo Q, Wang Y, Xu D, Nossent J, Pavlos NJ and XU J. Rheumatoid arthritis: pathological mechanisms and modern pharmacologic therapies. Bone Research 2018; 6(15). https://www.ncbi.nlm.nih.gov/pmc/articles/PMC5920070/ (accessed 30 November 2022).
Shapiro SC. Biomarkers in Rheumatoid Arthritis. Cureus 2021; 13(5). https://www.ncbi.nlm.nih.gov/pmc/articles/PMC8205440/ (accessed 30 November 2022).
Mimori T. Clinical significance of anti-CCP antibodies in rheumatoid arthritis. Internal Medicine 2005; 44(11). Clinical significance of anti-CCP antibodies in rheumatoid arthritis https://pubmed.ncbi.nlm.nih.gov/16357447/ (accessed 30 November 2022).