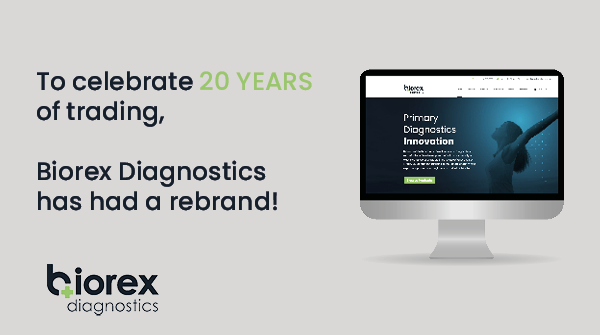 Biorex Diagnostics Has Rebranded
To celebrate 20 years of trading, Biorex Diagnostics have unveiled a new visual identity to reflect the growth of the business over the years.
The company is constantly seeking new ways to innovate and grow within our field. It was the business' aim to be modern and in style with the healthcare industry but also to differentiate ourselves from other brands.
"Biorex Diagnostics is a rapidly expanding innovative primary diagnostics manufacturer based in the United Kingdom. We specialise in the development, manufacturing and distribution of a range of Medical Diagnostics and Point of Care Tests for a global market."
Our new logo is a promise of quality, consistency, innovation and reliability. We are continuing to grow not only in the United Kingdom but internationally as our client list increases. The rebranding of the company will take place over the upcoming weeks with the redesign of the following company communications:
Website
Brochures and Flyers
Emails and Communications
Quotes and Invoices
Packaging labels and Shipping Invoices
"Biorex Diagnostics has been trading for nearly 20 years and we believe, as a company, a new look was a necessity to stand out from the crowd."
Rosita Zolnourian, Operations Director.
Our new website can be visited now at www.biorexdiagnostics.com. We look forward to hearing your thoughts at info@biorexdiagnostics.com. If you have any questions or queries regarding the rebrand, please do not hesitate to contact us.
About Biorex Diagnostics
Biorex Diagnostics was founded 20 years ago and has become a leading manufacturer of in vitro diagnostics.
We offer accurate, reliable products across multiple product ranges including; clinical chemistry, blood grouping, immunoassay ELISA and rapid testing. Using a global distributor network, Biorex products are available to hospitals, clinics, blood banks and research facilities in over 100 countries.
We are dedicated to developing market leading products and are committed to investing in the research and development of new products and collaborating with external research facilities and universities globally.